Information on bin collections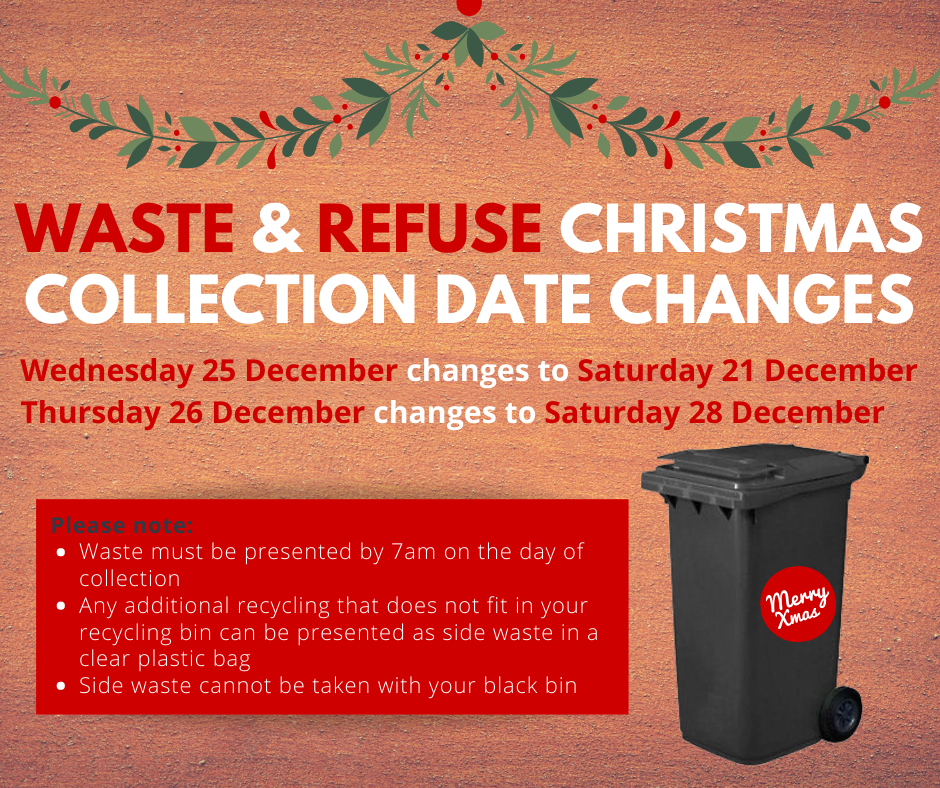 Please note the following changes to refuse and recycling collections over the Christmas Holidays:
If your collection is due on Wednesday 25th December it will instead be collected on Saturday 21st December
If your collection is due on Thursday 26th December it will instead be collected on Saturday 28th December
Bins will be collected on New Years Day
All other collections will remain the same and bins must be presented by 7am on the day of collection
Any additional recycling that does not fit in your recycling bin can be presented as side waste in a cardboard box or clear bag
Unfortunately we cannot take side waste with your black bin collection
We apologise for any inconvenience caused

City of Lincoln Council and Biffa would like to wish you a very Merry Christmas and a Happy New Year!
Christmas Tree Recycling
We know that there will be hundreds of real Christmas trees bringing joy to households in Lincoln, but for when the time comes to dispose of your tree, there are three easy options:

1. If you are subscribed to the Garden Waste Service, your tree can be chopped up and placed in your green bin
2. Present your tree with your black bin for collections from 6th to 20th January 2020. Please note, your Christmas tree will not be taken with your black bin as it will be collected by another vehicle on the same day as your black bin collection
3. Dispose of your tree by visiting the Household Waste Recycling Centre, Great Northern Terrace, Lincoln, LN5 8LG, but remember to check the opening times before packing your tree in the car!