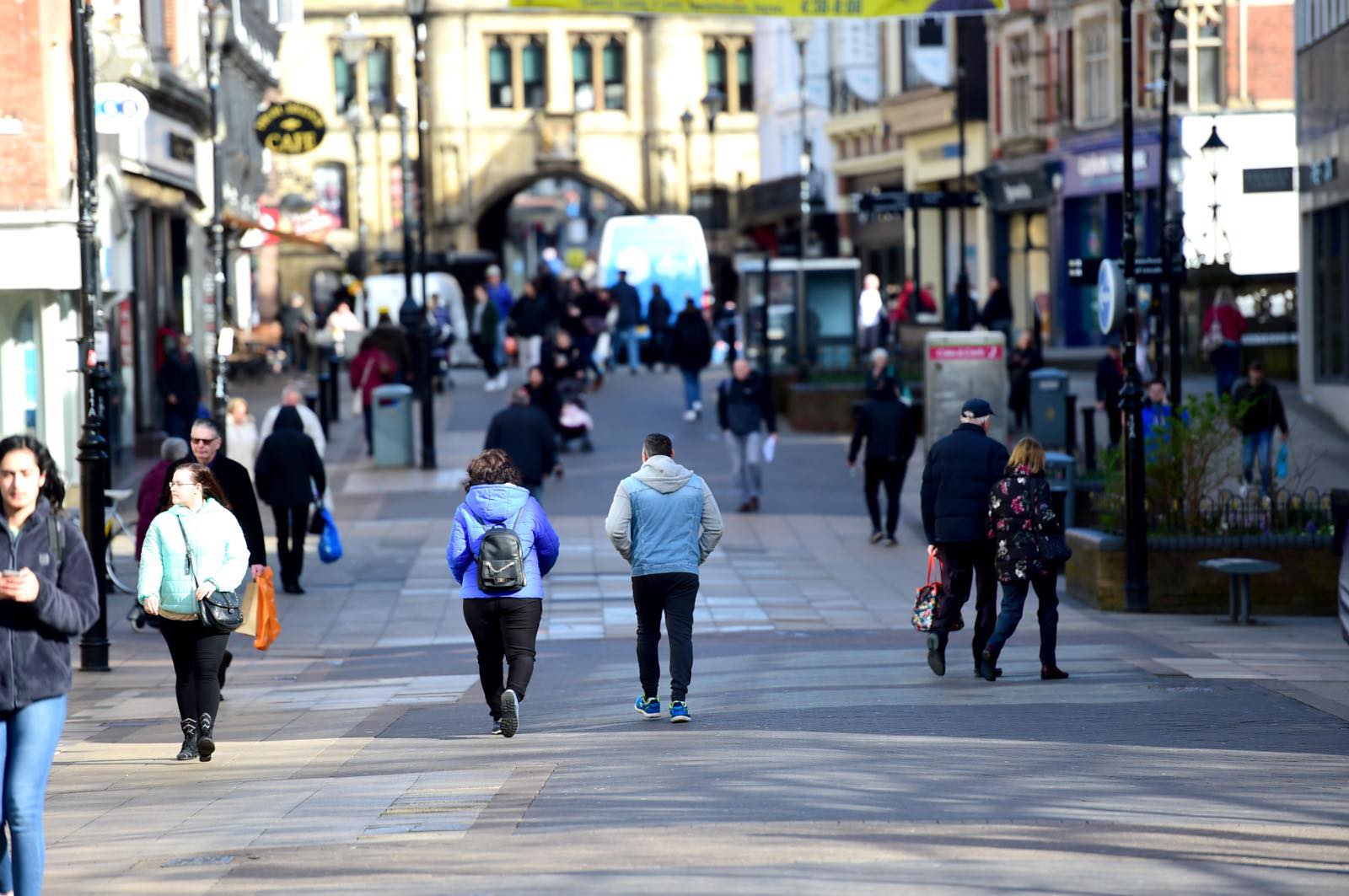 City of Lincoln Council is celebrating its successful second year delivering the High Street Heritage Action Zones (HSHAZ) programme in partnership with Historic England.
In April 2020, the city council received a successful offer for funding of £1.68 million from Historic England, which has enabled a programme of historic building restorations designed to revitalise the area and uncover its rich history.
By restoring buildings, making improvements to public areas, and ensuring local people have a real say in the project, the council aims to ensure key parts of Lincoln's history survives – and thrives – well into the future.
The HSHAZ programme of improvements for Lincoln is running from August 2020 to 2024 and include:
Property improvement grants to restore and reinstate historic shopfronts and other architectural elements to enhance the unique character and appearance of the area
Grants to repair and convert key historic buildings in the area
A community programme of events and activities for people to get involved in their local heritage, work together and learn new skills
An ambitious cultural programme will bring culture onto the high street and celebrate the unique rich history and diversity of the area through vibrant and engaging open-air activities and events
Since the launch of the HSHAZ, the city council has so far delivered a number of key projects:
Shopfronts

The HSHAZ property grant scheme has supported eligible building owners/leaseholders to invest in the repair and restoration of historic buildings, inside the HSHAZ boundary.
So far, two units at 8-10 St Mary's street have been restored, with a further six units at 38-44 Sincil Street currently underway.

St Marys Guildhall

Formerly known as John o'Gaunt's Stables St Mary's Guildhall is a grade I listed building and a Scheduled Monument. The building was awarded £75,000 of grant investment from Historic England via the HSHAZ scheme for emergency structural works and options appraisal. Emergency works conducted in phase 1 (Spring 2021) were prioritised for urgent structural intervention to prevent further subsidence and water ingress.
In May 2021, St Mary's Guildhall was awarded an additional £174,621 from the scheme. This grant funding is in addition to the £75,000 already awarded and brings the total investment into the historic building to £249,621.
The increased grant amount is to carry out structural repairs within the HSHAZ programme as an opportunity to ensure the building is structurally secure and enhance the chances of future sustainable use for the building coming into place by 2024.

The Barbican

The Barbican Hotel is a high-quality mid-19th century building originally constructed as a Gentleman's Club and repurposed as the Albion Hotel in 1876. It has recently been listed Grade II as a building of special architectural and historic interest. The building has been vacant for a number of years and is suffering decay. Historic England via the HSHAZ programme committed to offering grant support to aid the restoration, reinstatement and sympathetic refurbishment of the Barbican Hotel.
A total of £280,000 from the Lincoln HSHAZ has been awarded to The Barbican for structural repairs to the building and repair and reinstatement of heritage features. Works have now begun at the Lincolnshire Co-op building.

Lincoln Central Market

Lincoln's Central Market is a much-loved public asset, and a Grade II listed building.
The refurbishisment of Lincoln Central Market is a Towns Fund project to create a new offer for the city, however, to enable the project to proceed in a timely manner, the Lincoln HSHAZ has committed a significant grant contribution of £919,000 until 2024, £182,210 of which was awarded in February 2022 as additional funding following the prompt start of the scheme.
Phase 1 of these works are expected to commence from April 2021 which include: Works to the roof, repairs and replacement works to stonework and masonry, reinstatement of the original market stalls, shutters and fees.

St Mary le Wigford

The grade I listed church of St Mary Le Wigford is located at a busy intersection on the High Street and forms an important gateway
This project will rebuild the lost historic boundary wall to reinstate enclosure and enhance the setting of the church. By Removing the poor-quality hard landscaping and replacing with a landscaped grassed area will create a public green open space which is in short supply in the city centre area, providing respite for the general public distinct from the urban context, improving the visual appearance and functionality of a local public space.
Early investigations are currently underway to engage the services of an intendant arborist and structural engineer for the assessment of several mature trees located within the graveyard surrounding St Mary le Wigford church.

Community Engagement

The overarching aim of the Community Engagement Programme ensures that the people that live in, visit, use, and work in Lincoln's Lower High Street are engaged and involved in the project.
A broad programme of activity has been developed with local partners and stakeholder groups which aims to engage with a full diversity of the local community from shop owners, residents, older people, families, and religious groups.

Cultural Programme

Lincoln Cultural Arts Partnership (LCAP) was successful in achieving a £85,000 grant from Historic England for a 30-month programme of public arts and civic engagement along Lincoln's High Street via the national High Street Heritage Action Zone Cultural Programme.
As part of this, in October 21, the HSHAZ cultural programme supported the 10th anniversary of Lincoln's popular Frequency Festival, welcoming 15,000 visitors over the four-day event. Lincoln HSHAZ commissioned artist Thomas Buckley to develop a new work that revealed extraordinary stories from people who live, or have lived in, Lincoln through a multi-sensory installation: Frequency Festival Lincoln | Repositorium - Frequency Festival Lincoln. The footprint of the event was reduced to focus on the Cornhill area of the city plus surrounding streets, which are at the heart of the HAZ area.
The Small Creative Grants Programme has now launched, which will provide support and investment to small-scale and emergent events and festivals within our city. The flexible grant will support artists and groups to stage festivals, events, live performances to assist recovery, growth, organisational development, and artistic innovation. Grants of between £1,000 and £2,500 are available to small-scale or emerging festivals in Lincoln to support existing events and to aid their recovery following the Covid-19 pandemic. All events need to be staged between May and 31 December 2022. Find out more: Cultural Programme – City of Lincoln Council
Cllr Neil Murray, Portfolio Holder for Economic Growth and Historic Environment Advocate at City of Lincoln Council said: "The city's heritage is a key part of its identity and supports the investment and attraction to the city.
"This scheme aims to maintain, protect and restore city centre shopfronts, historic buildings and heritage sites at risk.
"We have made an incredible start to the HSHAZ programme, and I look forward to seeing this develop over the next few years."
David Walsh, Principal Advisor at Historic England added: "City of Lincoln Council and local partners, including the Lincolnshire Coop, have made a real success of getting the HSHAZ programme up and running in the most difficult circumstances of the last two years.
"Already we have seen a completed shopfront scheme and works are now ongoing throughout the HSHAZ area in Lincoln city centre.
"We are delighted that these projects, and the community and cultural activities, will help the people of Lincoln recover from the pandemic. We look forward to seeing the completion of this work, and new projects, in the next couple of years."