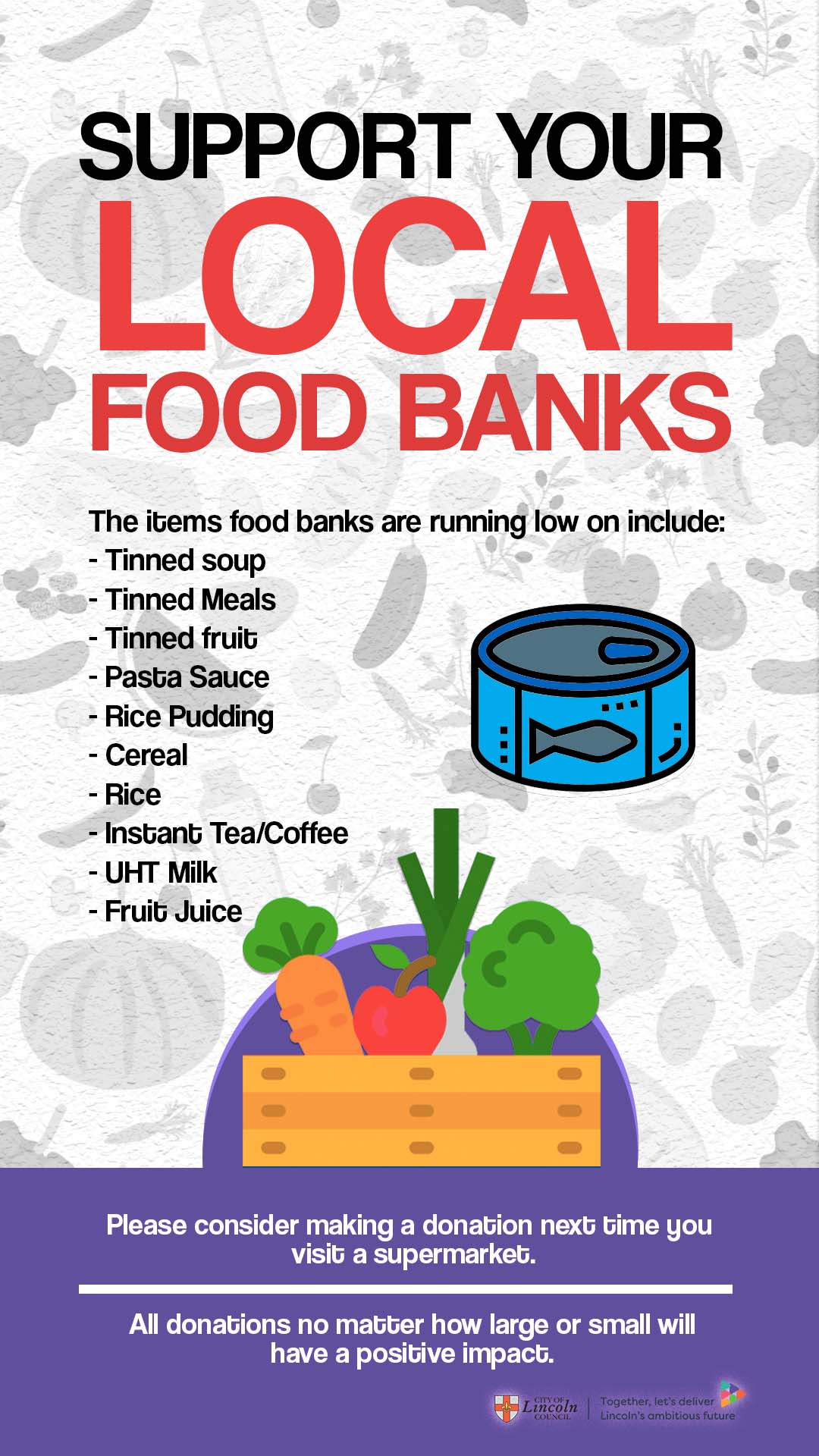 Local food banks are urgently seeking the support of residents and businesses to ensure they have sufficient supplies of food to support those in need in the city.
This follows unprecedented demand being placed on the service due to the rising cost of living.
Many supermarkets within the City of Lincoln have set up collection points to make it as easy as possibly for residents to make food donations whilst undertaking their food shop.
The items food banks are running low on include:
Tinned soup
Tinned meals
Tinned fruit
Pasta sauce
Rice pudding
Cereal
Rice
Instant tea / coffee
UHT milk
Fruit juice
In addition to food products, food banks also try to provide other essential non-food items to those most in need. This includes:
Toiletries and sanitary products
Baby supplies
Household items (such as laundry detergent, washing up liquid)
Cllr Sue Burke, Portfolio Holder for Reducing Inequalities, said "At this difficult time for many, Lincoln's food banks are seeing a significant demand on their service as more residents turn to food banks for support. All donations, no matter how small, are welcome and will make a positive impact for those in need at this difficult time."
It is also possible for individuals and businesses to make a monetary donations to local food banks - Lincoln Community Larder, Lincoln Foodbank and Lincoln Community Grocery. In addition, the food banks are also happy to accept food donations directly.
Further details are provided via the food bank websites:
Lincoln Community Larder
https://lincolnlarder.co.uk/donations/
Lincoln Foodbank
https://lincoln.foodbank.org.uk/give-help/
Lincoln Community Grocery
https://communitygrocery.org.uk/lincoln/
As part of the City of Lincoln Council's commitment to corporate social responsibility and supporting food banks, the council has recently setup a food bank collection point for council staff and elected members to donate to.
The council is encouraging other businesses to also consider setting up a food bank collection point for staff to donate to as part of their commitment to supporting local food banks and the residents of Lincoln.