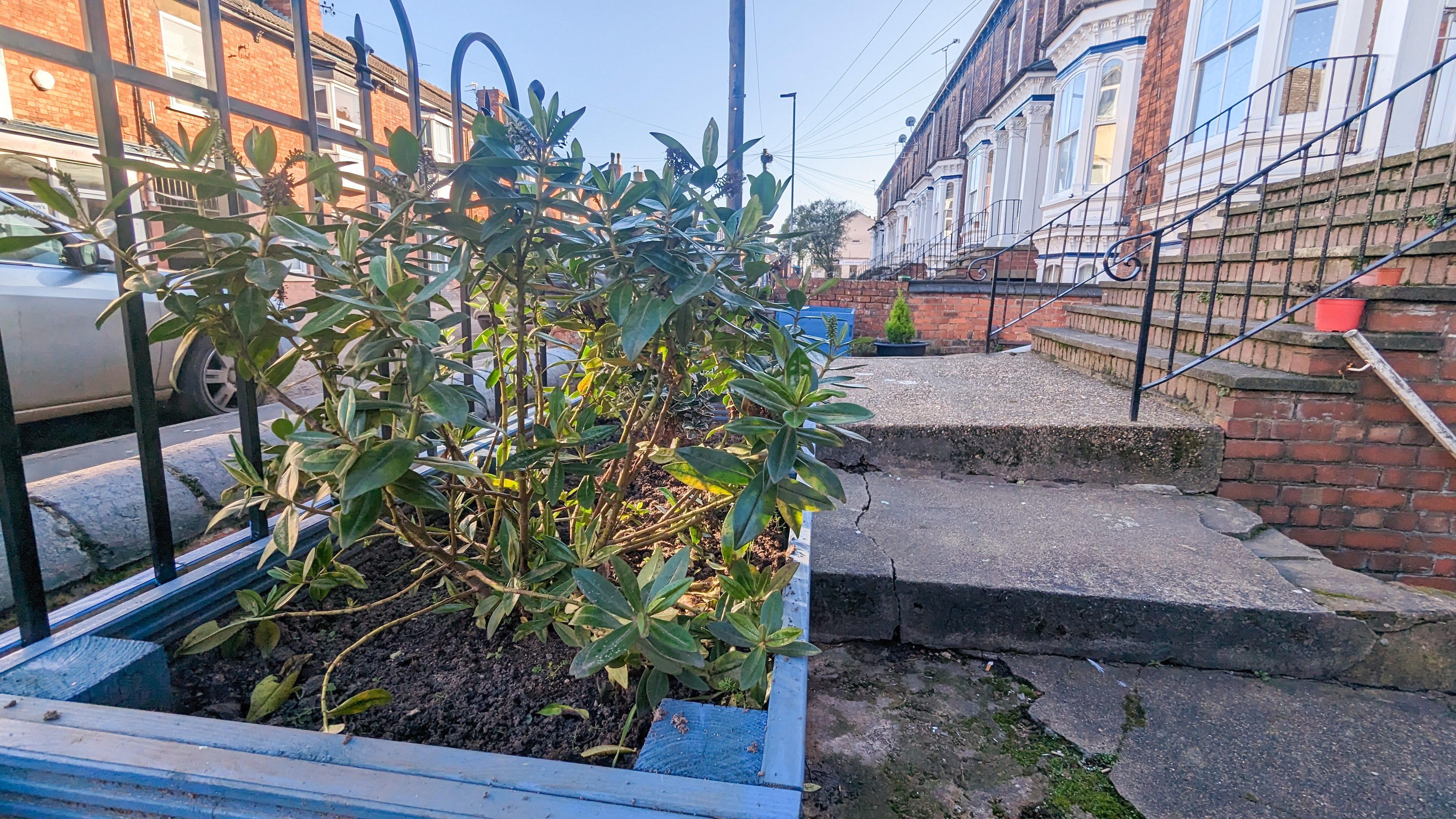 Driven by a resident with a passion for gardening and part funded by City of Lincoln Council and the Lincolnshire Economic Action Partnership (LEAP), the Portland Street Project is well underway.
Trying to improve the look of her garden, resident Janice Schlanker first took up gardening during the COVID-19 pandemic. She was encouraged to apply for a grant from the Community Chest with her work gaining recognition from her neighbours and the Sincil Bank Community Hub.
As a result of Janice's successful application, £2500 was granted to Sage Gardeners to develop a gardening project with residents. This donation was then matched by McNeil & Co Solicitors to increase the funding.
In total, six planters have been installed at the front of the properties on Portland Street; these were made by learners from Abbey Access Centre, and Jewson Partnership Solutions (JPS) kindly donated the materials.
The project falls into many broader developments being set up by Sincil Bank Community Hub and local communities to regenerate the area, including plans for housing development on Hermit Street.
Janice Schlanker is the resident who first started the project, and she said, "Members of the community drive this project under the watchful eye of Sage Gardener CIC. Together we hope to create a beautiful green space in the city centre for the residents to enjoy while improving the area's appearance to benefit the broader community.
"We are working together to create a better sense of community and wellbeing, learning new skills, and expanding friendships; I hope the benefits will be enjoyed for many years.
"A huge thank you goes out to the neighbours who have been involved and everyone who has supported this project."
Jane Newman, Director at Sage Gardener CIC, said, "The Portland Street project is important to the local community and sets an example about the future of the Sincil area. We are delighted to have been working collaboratively to deliver this project, encouraging people to volunteer, to learn and share practical skills, providing good visual and actual space for wildlife and making the area more attractive."
Paul Carrick, the Neighbourhood Manager Central at City of Lincoln Council, based out of Sincil Bank, said, "The project has developed so quickly, and it's great to see. When we had our initial conversations with Janice, she was so excited to play her part in improving the community she lives in we had to back it. Progress is moving well, and we are excited to see what the result looks like when it is all finished."
Abbey Access Training's students made and supplied the planters said, "It has been a fantastic project to be a part of. While the community is getting together on Portland Street, this has also enabled us to deliver some basic Joinery skills training to our learners who have not had the opportunity to try their hands at this kind of work. The final product is something that many people will take pride in, knowing that they have contributed towards its completion."
Mark McNeil of McNeil & Co Solicitors, the local solicitors that helped fund the project said, "I believe this is a very good project and shows how the community can come together. It is particularly important that people have the help and support in these difficult economic times".
Jamie Griffin, Operations Director for the East and South East at JPS, said; "We're always looking for ways we can support the local communities in which we live and work to help make safer, welcoming and more enjoyable spaces. Therefore, when we were approached by City of Lincoln Council to support on the Portland Street Community Garden Project with materials, we were more than happy to help. This is a fantastic project which I know will make a real difference to the local community – well done to everyone involved."