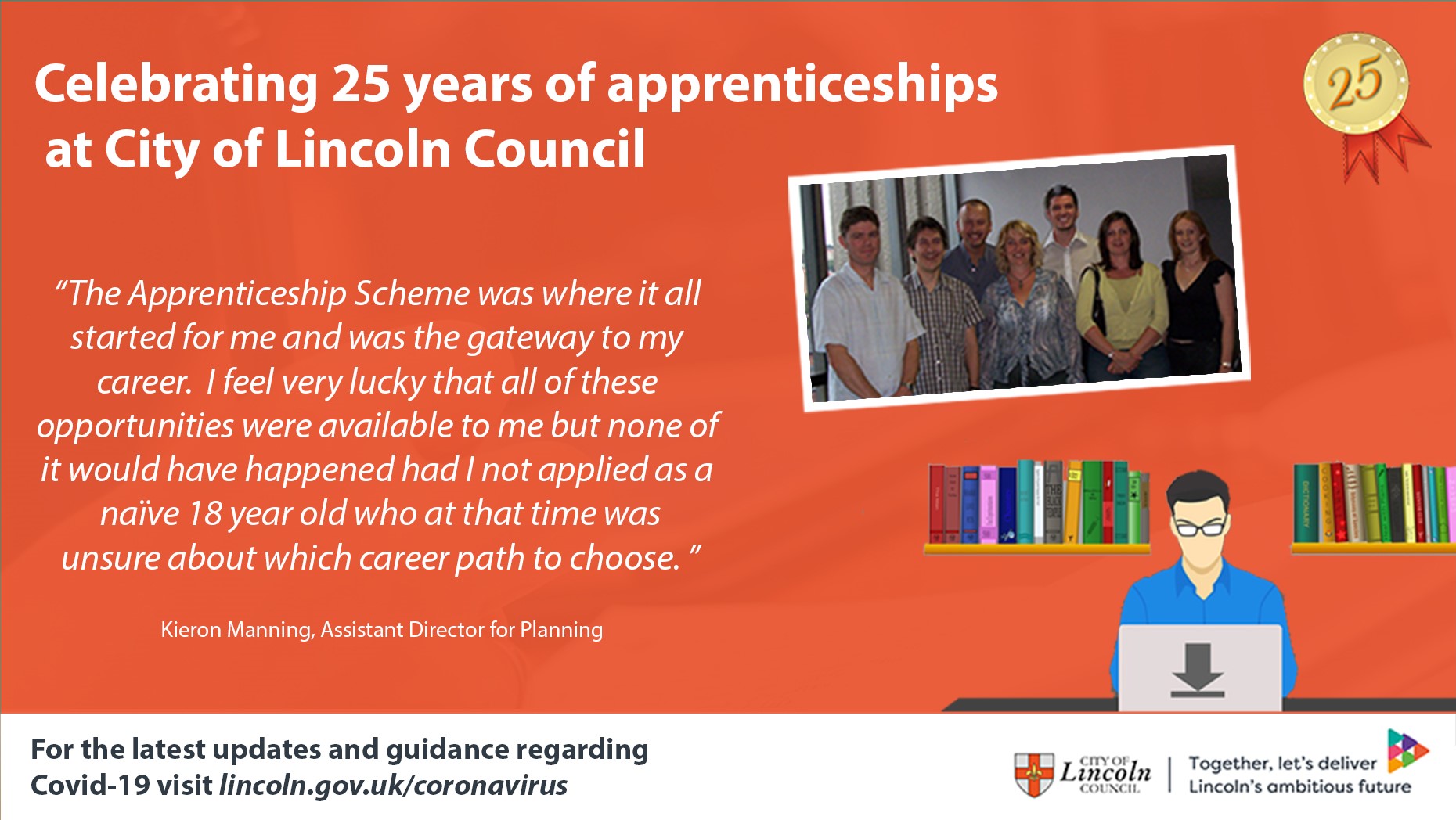 This month we celebrate 25 years of running apprenticeship schemes through City of Lincoln Council.
Apprenticeships are a great way to get into work early on – the perfect way to earn as you learn!
With this in mind, we have spoken with a number of our first apprentices from 1995, who still work with the council today in various roles.
Today, we speak with Kieron Manning, who, after starting as an apprentice in 1996, is now the Assistant Director for Planning.
He said: "I started my apprenticeship in July 1996 when I'd just turned 18 and fresh from my A-Levels.
"As I had an A-level in Art I was offered a tailored apprenticeship which included the NVQ level 3 in Business Admin but also included an ND in Graphic Design which I completed at De Montfort Uni on day release.
"My first placement was in what was then called Economic Development working under an old school council character Rob Smith but by March 1997 I had been successful in securing a full time permanent role as a Planning Technician working in Planning Policy.
"I worked in that section for four years until an opportunity arose in Development Management.
"This was a fantastic opportunity which saw me as the first employee from the department to undertake a planning degree and post grad diploma on day release at Sheffield Hallam Uni – whilst simultaneously learning the ropes of Development Management.
"This move really suited me as it is the sharp end of the planning system, dealing with planning applications and enabled me to play to my strengths of using creativity and interpersonal skills to negotiate solutions. It is also a line of work where everybody can see the impact you make every day.
"My career continued to progress becoming a Senior Planning Officer, then a Principle Officer before securing the role of Planning Manager in 2013 and most recently becoming Assistant Director this year. My role is now more about decision making as opposed to dealing with planning applications but I still enjoy involvement at all levels of the process and am passionate about the work we do in making sure the city develops in a sustainable way.
"The Apprenticeship Scheme was where it all started for me and was the gateway to my career. I feel very lucky that all of these opportunities were available to me but none of it would have happened had I not applied as a naïve 18 year old who at that time was unsure about which career path to choose.
"Not everyone has a clear route mapped out for their working life whilst at school and I think the Apprenticeship scheme creates the opportunity for young people to experience different types of work and can help them decide which direction to take.
"In addition to my story there are no less than seven other officers who have taken this path in planning and six of them are still in the team, with a further officer about to embark on a day release planning degree through Work Based Learning.
"I'm sure they would all share my feelings on how the apprenticeship process helped them develop their profession."