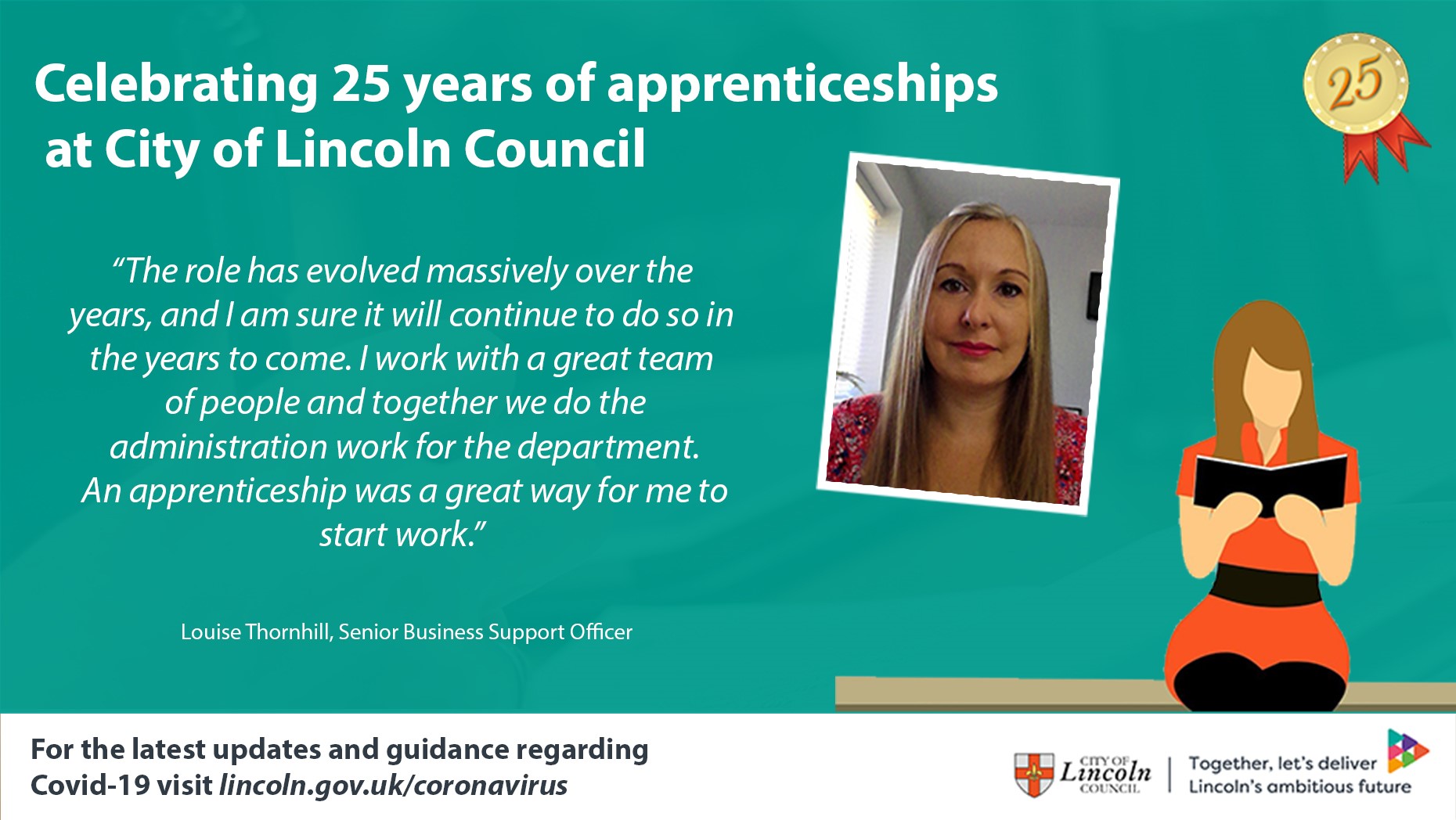 This month we celebrate 25 years of running apprenticeship schemes through City of Lincoln Council.

Apprenticeships are a great way to get into work early on – the perfect way to earn as you learn!
With this in mind, we have spoken with a number of our first apprentices from 1995, who still work with the council today in various roles.
Today, we speak with Louise Thornhill, who now works as a Senior Business Support Officer at the council.
Louise started her job as an apprentice at City of Lincoln Council on 4 September 1995 after being interviewed by Angela Dillon (now our Chief Executive Angela Andrews) and Steve Hall.
She said: "I was one of 10 new MA's (Modern Apprentices) who were mostly 16 years old and straight out of school.
"We were employed to spend a few weeks in each department and undertaking training, while also doing our NVQs in Business Administration, as well as attending Riseholme College to study for our BTECs in Business and Finance.
"The MA role was a great way to meet people and learn what each department does. My first placement was in the Benefits Office with Julie Bowler (now Julie Rouston).
"The work MA's were given depended on the placement – some teams trained you to do actual jobs which was fantastic and really gave us some skills for applying for future roles. Other placements were not so exciting and you were given massive backlogs of officers' filing trays, lists of how people like their tea and coffee, and the Friday butty runs to collect.
"My first permanent job evolved from my MA role, as the vacancy in Housing Admin came up while I was their MA."
Louise started as a Clerical Assistant, before the days of computers on desks.
She added: "We had a duplicate note pad for Official Orders, a Fax Machine in the corner, and an internal Printing Team on floor zero where the only two photocopiers in the building were kept.
"Emails, the internet and mobile phones were not yet in the workplace."
Over the years Louise has taken on a number of roles within Housing – but has been the Senior Business Support Officer in the Department of Housing and Investment for 17 years.
She said: "The role has evolved massively over the years, and I am sure it will continue to do so in the years to come. I work with a great team of people and together we do the administration work for the department.
"An apprenticeship was a great way for me to start work. It was the best of both worlds.
"I was getting a qualification, I was being trained to do a job, I was meeting the people who would later give me a permanent job and become my friends and colleagues, I could sample different jobs to see what I did (and didn't) like, and I was being paid (although I hope the wages have improved from our £60 a week!)."