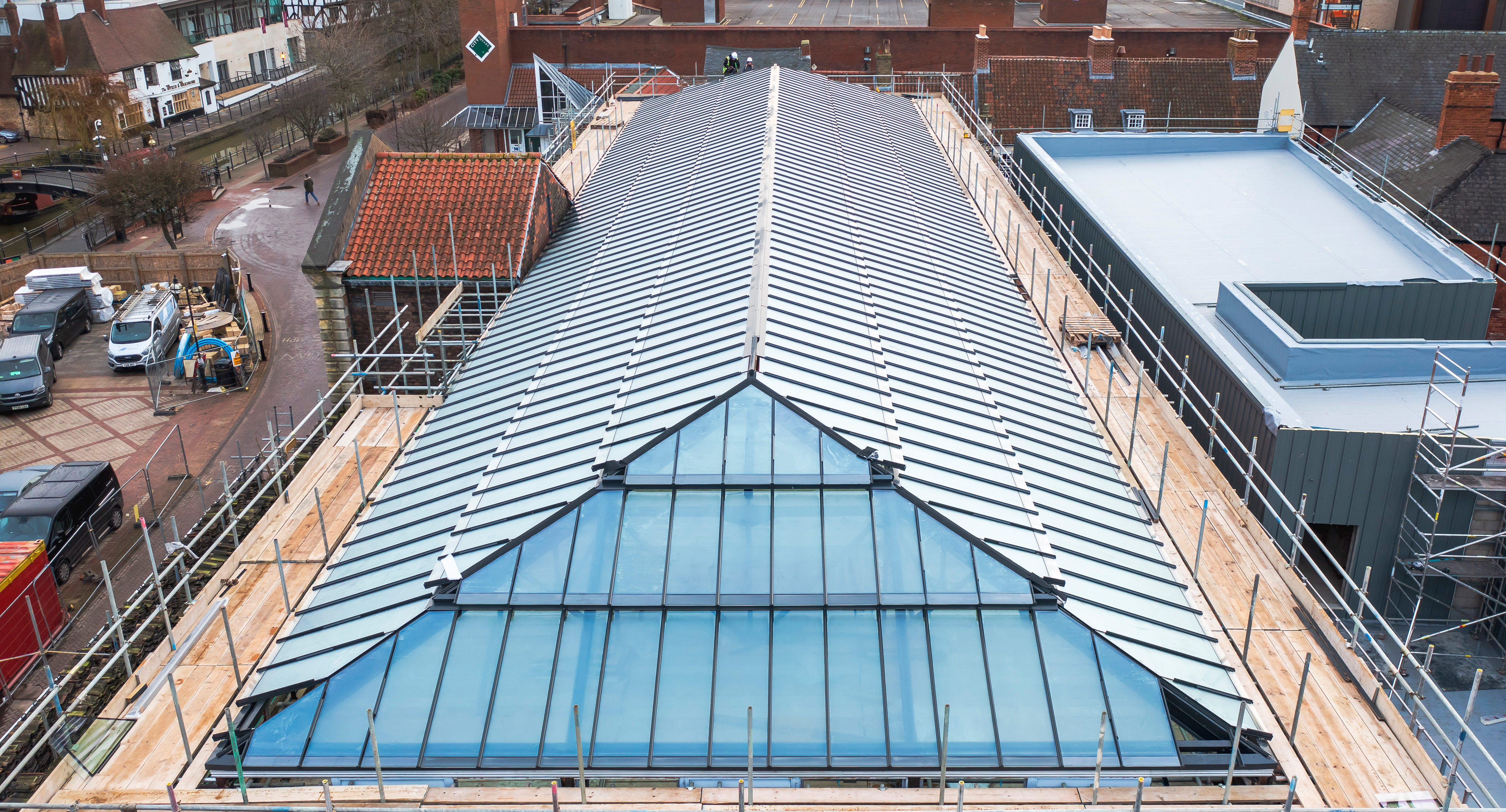 The new replica glass roof has now been installed, marking a major milestone in the refurbishment of the market.
The new replica glass roof has now been installed, marking a major milestone in the refurbishment of the market.

New glazing panels to the arches around the building will also be installed, which signifies completion to the external works of the main market building and the start of the internal works.

Once the building is fully watertight, Lindum Group will begin work on putting up the internal walls, including the electricals and water pipes, and plastering. The main floors in the market will also be tiled, ready to receive the new timber stalls.

Working on behalf of City of Lincoln Council, Lindum is transforming the old grade II listed central market building into a hub for retail and leisure in the heart of Lincoln. A restaurant and rooftop terrace are two features that will make up part of the revitalised market.

Maria Clayton, Capital Projects Manager for the City of Lincoln Council said: "We are pleased to see the progress of the building works to both the main market hall and the new A3 unit, which are really beginning to take shape. We are also excited to see the internal works commencing.

"The scheme will aim to re-invent the market, bringing greater opportunity to showcase local produce as well as offer a variety of traders to respond to local needs and changing shopping trends."

The work includes the demolition of the butcher's corridor and the construction of a new two-story extension, incorporating a restaurant with a roof terrace.

Lindum Construction Manager Mark Leason said: "It is a fantastic achievement by the team to get the market watertight. We are well on the way to turning this old building into one of the most vibrant locations on the high street, benefitting the entire area.

"The new roof will be completely identical to the original, maintaining the building's heritage amongst the modernisation and refurbishment works. It is important that while we are updating and upgrading the centre of Lincoln, we mustn't lose the impressive architecture and heritage that comes with this historic city."

The work was procured through Pagabo's Medium Works Framework.

Tom Retallick, Framework Manager at Pagabo, said:
"We're proud to have played a part in such an important project located in the heart of Lincoln. Procurement through our Medium Works Framework allowed for Lindum Group to be appointed quickly and compliantly."

The project is part of the government's Be Lincoln Town Deal, a £19 million investment plan in which City of Lincoln Council has received funding to support the growth and development of the city. Funding has also come from Historic England's High Street Heritage Action Zone scheme and Historic England.
For more updates and information regarding the Town Deal projects, please visit Towns Fund Projects – City of Lincoln Council