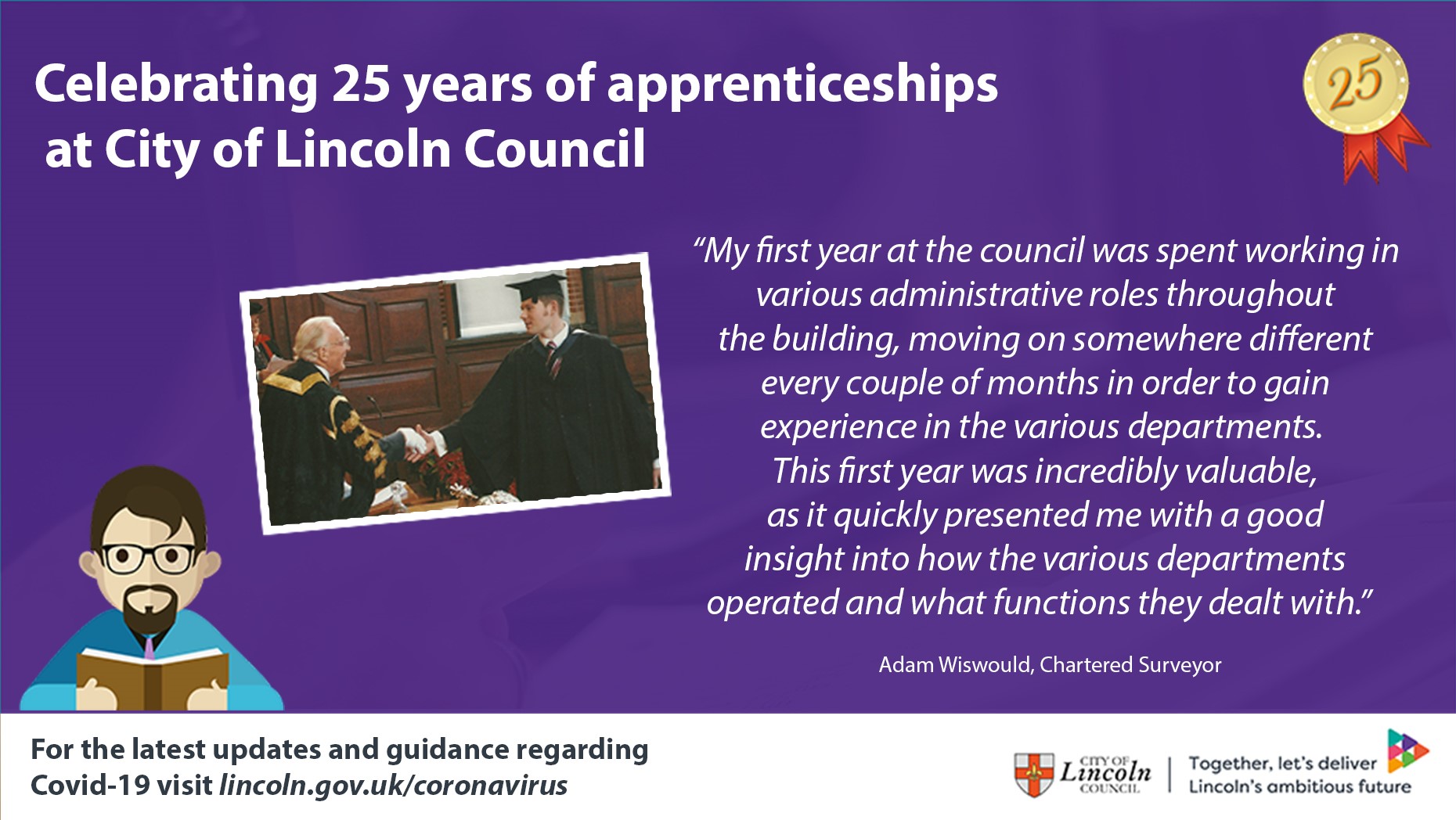 This month we celebrate 25 years of running apprenticeship schemes through City of Lincoln Council.
Apprenticeships are a great way to get into work early on – the perfect way to earn as you learn!
With this in mind, we have spoken with a number of our first apprentices from 1995, who still work with the council today in various roles.
Today, we speak with Adam Wiswould, who now works as a Chartered Surveyor within the council.
His career as a 'Modern Apprentice'at City of Lincoln Council began on 4 September 1995, when at the innocent age of 16, he started as a 'Trainee Administrator'.
He said: "This was indeed the first year of this new scheme and I recall much excitement and fanfare at the fact that the council had taken on its first batch of new apprentices in around 20 years.
"I believe the council has since taken on a new batch every year since, so we must have set a good precedent!
"My first year at the council was spent working in various administrative roles throughout the building, moving on somewhere different every couple of months in order to gain experience in the various departments.
"This first year was incredibly valuable, as it quickly presented me with a good insight into how the various departments operated and what functions they dealt with.
"It was also my opportunity to create a good impression, as I was acutely aware that at some stage I would be looking to apply for a permanent position when something suitable arose.
"Whilst moving through the various departments, I also attended college one day a week to study business and finance. I continued studying business and finance for four years in total, eventually reaching HNC level."
After just over a year at the council, Adam moved into the Economic Development Department as an apprentice.
Whilst there, a new full time role was created and advertised to assist with the administration of the department and to offer support specifically to the Estate Management section (now Property Services).
He added: "The position seemed to offer potential and the council obviously thought the same of me, as I applied for it and was lucky enough to be offered the position.
"As the years went by, I gradually took on more responsibility within Property Services and worked my way up the ranks.
"The real turning point for me probably came in 2001 when, having worked in Property Services for some years, I took the decision to go back to college and train as a surveyor.
"It seemed like the logical next step at the time, as I was keen to advance my career and the council had experienced great difficulty in recruiting and retaining qualified surveyors.
"So, with the council as my sponsor, I enrolled on a Royal Institution of Chartered Surveyors accredited degree course.
"It was a BSC (Hons) in Estate Management at Reading University to be precise, which was a part distance learning/part face-to-face learning course, so this meant regular trips down to Reading for me for teaching and exams.
"This was an incredibly exciting time for me as I was able to marry up the technical skills I was learning at college with the practical experience I was gaining on the job – I think this has got to be central to any good apprenticeship scheme.
"One of my career highlights probably came as a result of this training when in 2005 I got to meet and was awarded my degree by Lord Peter Carrington, 6th Baron Carrington, Chancellor of the University of Reading between 1992 and 2007.
"For those not aware of his achievements, I urge you to have a Google – quite an impressive CV by anyone's standards.
"In 2008, three years after gaining my degree, I passed the RICS Assessment of Professional Competence which meant I became a fully-fledged Chartered Surveyor.
"My typical day now involves dealing with all aspects of managing the council's mixed portfolio of commercial property and carrying out regular property valuations (which need to be signed off by a Chartered Surveyor) for Business and Finance so that they can meet their requirements for International Financial Reporting Standards.
"Looking back over my now 25 year career in Local Government I have witnessed many changes. I am certain there will be many more changes to come, some of them perhaps quite radical, particularly given the uncertain times we now find ourselves in.
"Like any sector, Local Government is constantly evolving, and it probably needs to evolve in order to flourish.
"If I could go back in time and do it all again, would I? – of course! Would I advise a 16 year old to sign up to an apprenticeship scheme today? – well that depends.
"It requires quite a bit of discipline to work and study at the same time, especially for the number of years I did it for. It wasn't always easy and many weekends had to be sacrificed along the way.
"But if you think you can cope with that I would say without doubt, give it a go. The advantage that studying whilst working gives you is enormous and you will be reaping the dividends of your efforts long after any short term pain will have been long forgotten."