What are Scheduled Repairs?
In August 2020, the City of Lincoln Council introduced a new way of managing housing repairs. These are called 'Scheduled Repairs' and are carried out at set times of the year across set areas of the city.

We will continue to carry out our priority repairs within 24 hours and urgent repairs within 3 days. All other repairs will be delivered on a scheduled basis.

This page outlines the types of work classed as scheduled repairs. We have also included a calendar of works that shows when the repairs are due to be carried out in your area.
A scheduled repair is a repair that needs to be completed but is not urgent and unlikely to cause a risk to you, your family, your neighbours, your home or your belongings.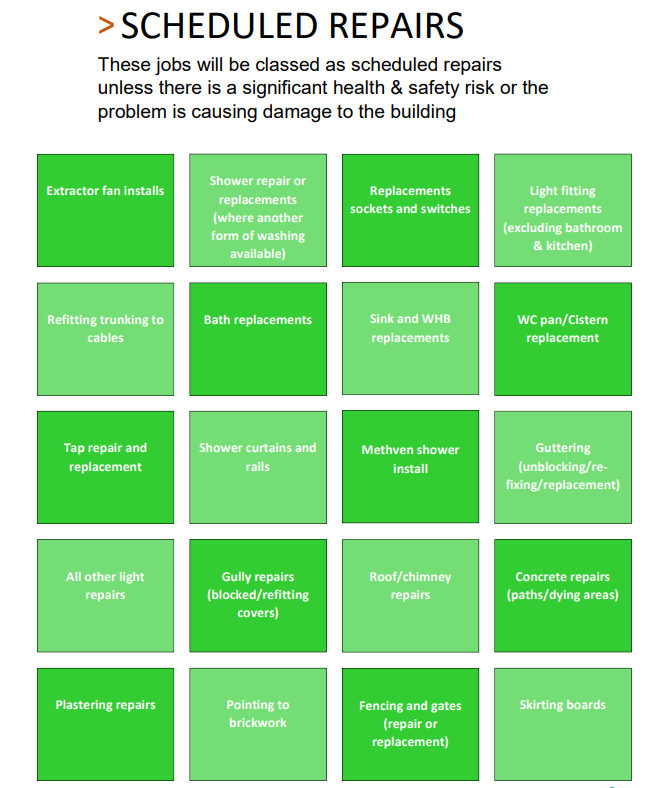 Why Scheduled Repairs?
Based on your feedback, you said that you would like, fewer appointments and follow on work, less missed appointments, minimal disruption and more flexibility in appointment time slots.

Scheduled repairs allows us to plan all the work in each area, and ensure that we have all the right resources and materials in the right place so we can complete any repairs you report in one visit. This gives everyone more certainty that the repair will be carried out on the expected date.
How do Scheduled Repairs work?
Once you have reported your repair, it will be scheduled in and carried out when our repairs team are next working in your area (see page 3). Repairs should take no longer than 8-12 weeks to be completed.
At the City of Lincoln Council we believe that each person should be considered individually. If the need for a repair is having an impact on a vulnerable person, we will take this into account.
How do I report a Scheduled Repair?
You can continue to report your repairs by telephone on 01522 87333, or use our online repair request form

If your repair is a priority or urgent, please also contact us by telephone on 01522 87333.
What happens after this?
If you are not in when we arrive to complete your repair, we will first call you on your mobile and landline
If we are unable to contact you, we will put a card through your door so you can call us back at your convenience
If you need to set a new date, you should contact us within 5 working days
If we do not hear from you in this time, we will have to cancel your repair.You can then rebook your repair for when we are next scheduled in your area.
If the repair is outside of your home, we may not need to arrange an appointment, but we will let you know that we have carried out the repair if you are not in when we arrive.
Examples of priority, urgent and scheduled repairs can also be found on our website under the maintenance and recovery information pages