City of Lincoln Council has secured funding to breathe new life into Lincoln High Street through The High Streets Heritage Action Zones (HSHAZ) programme.
The programme is a national project aiming to transform historic high streets and make them fit for the future.
Funded by Historic England and City of Lincoln Council, the project will see our Lincoln High Street become a High Street Heritage Action Zone, with an extensive programme of historic building restorations designed to revitalise the area and uncover its rich history; alongside a programme of exciting cultural events and activities for the whole community to enjoy.
The programme of improvements will run from January 2021 to 2024.
Lincoln's High Street
The area was comprehensively redeveloped and expanded during the 19th century, after the introduction of the railway and the establishment of various engineering industries, providing new homes and shops. Most visitors to City of Lincoln will travel through the High Street at some point. The physical improvements will help us to make a positive impression for visitors to the Cathedral City and re-establish the area's unique historic character for all to enjoy.
The High Street Heritage Action Zone Programme
We want to make Lincoln High Street a more desirable place for businesses, visitors, investors and local people.
A package of interventions will be delivered over the next 3 years, which include:
Property improvement grants to restore and reinstate historic shopfronts and other architectural elements to enhance the unique character and appearance of the area
A community programme of events and activities for people to get involved in their local heritage, work together and learn new skills
An ambitious cultural programme will bring culture onto the high street and celebrate the unique rich history and diversity of the area through vibrant and engaging open-air activities and events
Re-imagining Wigford Way to promote a redevelopment which will improve links between the lower High Street and the City and achieve a better townscape.
By restoring buildings, seeking to improving public areas and ensuring local people have a real say in the project, we will ensure this key part of Lincoln's history survives – and thrives – well into the future.
Lincoln High Street Map
The Lincoln High Street Heritage Action Zone boundary starts at Waterside South across to Wigford Way and ends on the High Street at the junction with Sibthorpe Street/Gaunt Street. It includes all buildings on either side of the High Street and Sincil Street.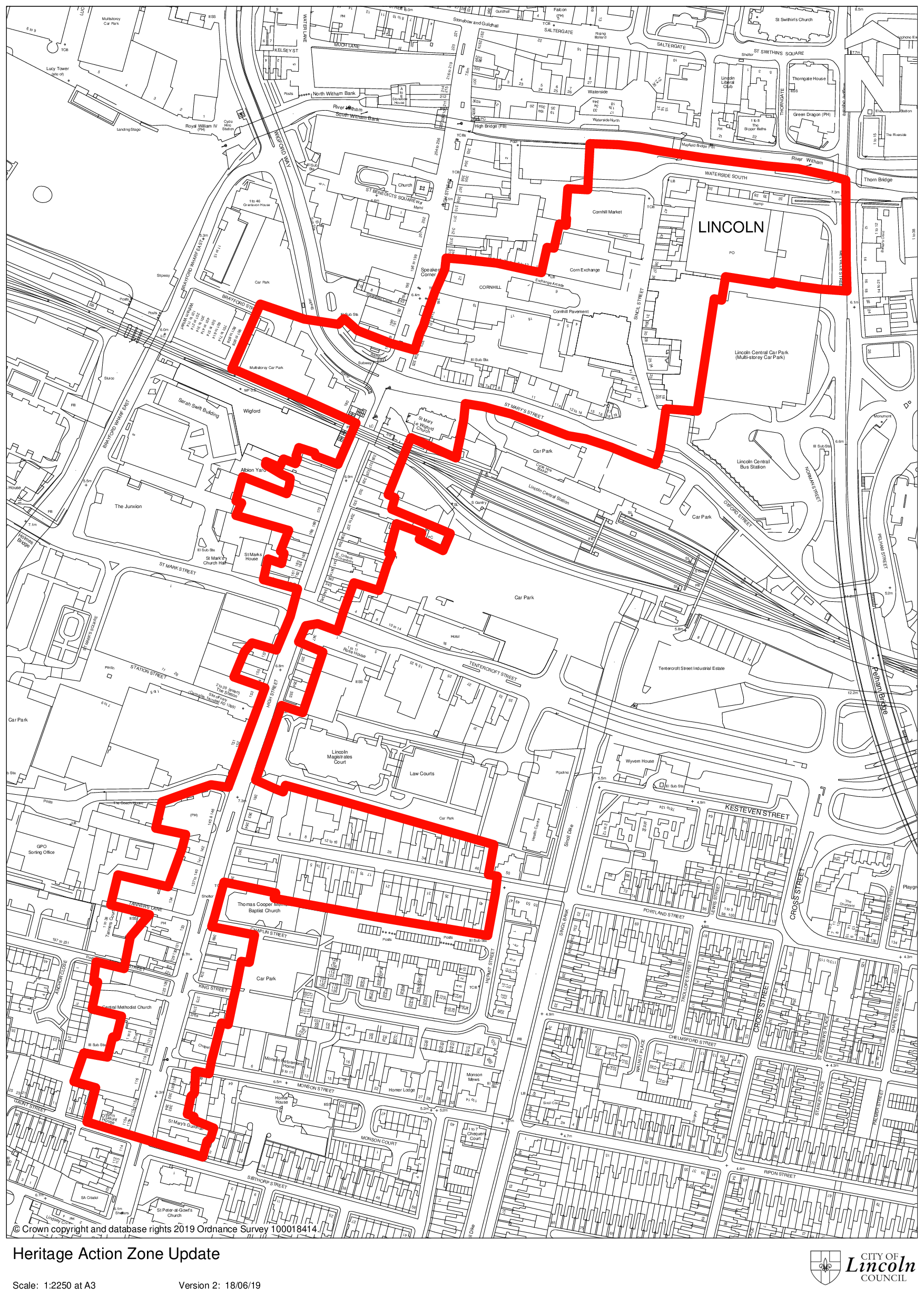 Map showing the Lincoln High Street Heritage Action Zone project boundaries
Further Information
If you are a commercial property tenant, business owner or landlord within the designated HSHAZ area (outlined on the map above) you may be eligible for a non-repayable grant of up to 90% of the for restoration and/or shop front refurbishment.
If successful, as part of the HSHAZ you will be supported by an experienced team of professionals to deliver a bespoke, high quality facade for maximum curb-appeal.