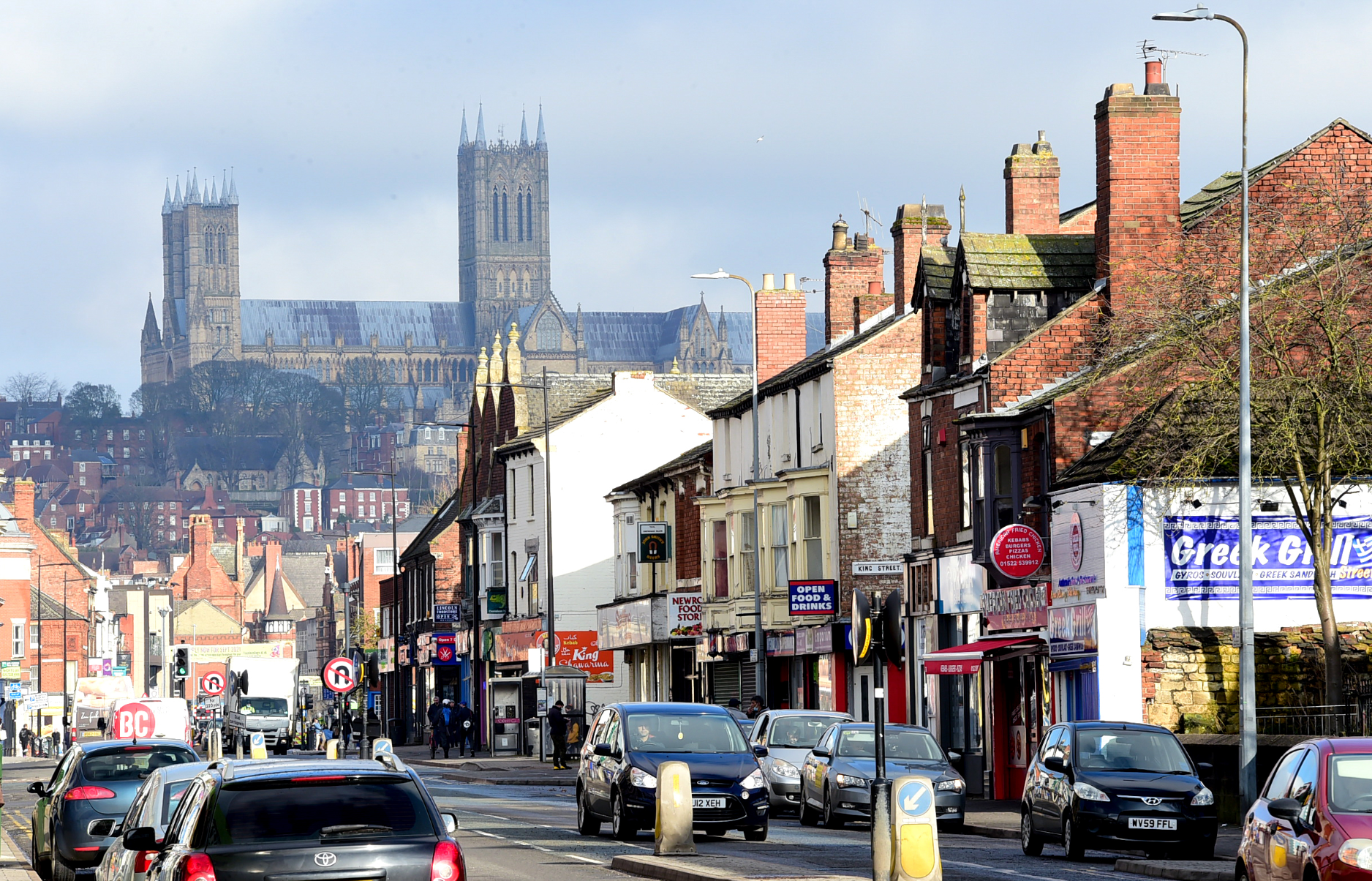 City of Lincoln Council is celebrating its successful third year delivering the High Street Heritage Action Zones (HSHAZ) programme in partnership with Historic England.
In April 2020, the city council received a successful offer for funding of £1.68 million from Historic England, which has enabled a programme of historic building restorations designed to revitalise the area and uncover its rich history.
By restoring buildings, making improvements to public areas, and ensuring local people have a real say in the project, the council aims to ensure key parts of Lincoln's history survives – and thrives – well into the future.
Thanks to the successful and timely delivery of the Lincoln HSHAZ, the scheme has also attracted additional funding to further restore the city's historic assets.
The HSHAZ programme of improvements for Lincoln is running from August 2020 to 2024 and include:
Property improvement grants to restore and reinstate historic shopfronts and other architectural elements to enhance the unique character and appearance of the area
Grants to repair and convert key historic buildings in the area
A community programme of events and activities for people to get involved in their local heritage, work together and learn new skills
An ambitious cultural programme will bring culture onto the high street and celebrate the unique rich history and diversity of the area through vibrant and engaging open-air activities and events
From 2022-2023, the city council has delivered a number of key projects as part of the HSHAZ:
St Mary's Guildhall

St. Mary's Guildhall is a key heritage asset within the Lincoln High Street Heritage Action Zone and was on the 'Structures at Risk Register' and a Scheduled Ancient Monument as well as Grade I listed.
A total of £502,980 from Historic England's High Street Heritage Action Zone (HSHAZ), Regional Repair Grand and Regional Repair Enhancement scheme has seen works completed, which include emergency structural works and the following completed:

Full re-roofing of the Norman House
Restructuring roof of Northern Range, and structural works including buttressing
Timber repairs
Repairs to lead gutters
Local reconstruction of first floor chimney
Quarterly monitoring of the elevation
Feasibility works including business plan, community engagement plan and governance review

For further information about St Mary's Guildhall, visit: St Mary's Guildhall – City of Lincoln Council
To have your say on possible future use options for St Mary's Guildhall, visit: St. Mary's Guildhall, Lincoln Survey (surveymonkey.co.uk)
Shop Fronts

As part of the High Street Heritage Action Zone (HSHAZ) scheme the city council has created a programme of historic building restorations designed to revitalise the area and uncover its rich history. Included in this is plans to revitalise Lincoln's historic shopfronts to bring them back to their former glory, with 10 shopfronts now reinstated.
The property grant scheme supports eligible building owners or leaseholders, to invest in the repair and restoration of historic buildings, inside the HSHAZ boundary.
Property improvements can include, but are not limited to, repairs, reinstating lost features, and making buildings suitable for new use.
Shop front restorations have now been completed at 8-10 St Mary's Street and 38-44 Sincil Street
Pre-construction works are now underway for two further units within the HSHAZ
St Mary le Wigford

St Mary Le Wigford is a grade I listed church located at a busy intersection on the High Street and forms an important gateway to the city centre from the south and passengers arriving in the city either via train, bus or car – owing to its close proximity to the newly completed transport hub on Wigford Way.
This project will rebuild the lost historic boundary and enhance the setting of the church by removing the hard landscaping and replacing with a landscaped grassed area.
The works will also enhance the setting of the adjacent grade II* Conduit by improving the physical condition and appearance of the highway and by recreating and reinforcing a sense of place and historic character.
Barbican Hotel

Constructed as a Gentleman's club and later a Railway Hotel, the Barbican's close proximity to Lincoln's new Transport Hub and location within the setting of nearby designated heritage assets including the church of St Mary Le Wigford (Grade I) and Lincoln Central Railway Station (Grade II) by virtue of its location and stature, forms an important first impression for arrivals to Lincoln.
Lincolnshire Co-Op has been awarded £280,000 of grant investment via Lincoln HSHAZ to bring the building back to aid the restoration and sympathetic refurbishment of the building to bring it back into a structurally sound condition.
A programme of stonework restoration, roof and structural repairs are ongoing until Spring 2023.
Alongside Historic England's Heritage Action Zone's investment, development of the former Barbican Hotel has been further supported by funding from the Government's Town Deal Fund and a partnership between the University of Lincoln and Lincolnshire Co-op which will see the building reopen in 2024 as a 'creative hub' for the city.
Lincoln Central Market

The redevelopment of Lincoln Central Market seeks to enable it to meet the demands of a changing high street and provide the residents of Lincoln, local businesses, and visitors, with an enhanced market offer in the heart of the city centre's retail area that responds to local needs and changing customer trends.
Lincoln Central Market has been awarded a grant of £919,000 from Historic England via the High Street Heritage Action Zone scheme to bring the building back to aid the restoration, reinstatement and sympathetic refurbishment of the historic fabric of the building.
HSHAZ funding was earmarked for specific heritage aspects including repairs / replacement of existing stonework, removal of existing roof tiles, battens and felt and replacement with a mixture of new and existing roof tiles, glazing to arches.
Community Engagement

Bright and engaging hoardings are in place along the high street in prime locations to promote the HSHAZ investment programme.
Across Spring and Summer 2022 Groundlab delivered a series of community workshops aimed at exploring urban gardening and placemaking with local children and families. A second series of workshops was delivered with local primary school Bishop King Primary to discover local history and heritage of the High Street and encourage children to consider what uses the buildings could have in the future.
A Guildhall Community consultation event was held in February 2023. The public engagement day formed part of the Guildhall options appraisal consultation.
Heritage Skills Open Day - December 2022. In December 2022 we invited conservation restoration, structural engineering and architecture students and professionals to join us for an open day event to share our learning and challenges during the structural restoration.
Heritage Open Days walking tours were held in September 2022. Lincoln HSHAZ held walking heritage tours as part of Lincolnshire Heritage Open Days festival. The walking tour highlighted the key HSHAZ projects (including a tour of works in progress at St Mary's Guildhall) and highlighted hidden high street histories.
Lower High Street heritage trails were also launched September 2022. Three new heritage trails have been developed in partnership with Lincolnshire County Council, Heritage Lincolnshire, Lincoln City Foundation funded via Sport England's Transforming Inequalities fund with match funding from Lincoln HSHAZ. The project focuses on getting the local community more active, training local people to lead guided heritage walks and encouraging local people to enjoy self-guided walks using the trail information.
School workshops were held in Summer 2022. Delivered between May-June 22, Lincoln HSHAZ was delighted to offer fully subsidised create workshops for KS2 pupils throughout summer term. Local artists Brew Projects explored the hidden history of the local area in fun and creative ways and imagined how the city may look in the future with the school children. Feedback from pupils and teachers alike has been extremely positive.
Cllr Neil Murray, Portfolio Holder for Economic Growth and Historic Environment Advocate at City of Lincoln Council said: "The city's heritage is a key part of its identity and supports the investment and attraction to the city.
"This scheme aims to maintain, protect and restore city centre shopfronts, historic buildings and heritage sites at risk.
"We have seen another incredible year of delivery of the HSHAZ programme, and I look forward to seeing this continue into our final year."
David Walsh, Principal Advisor at Historic England added: "We are delighted to see the continued success of the HSHAZ programme.
"All the work done by the council and key delivery partners is helping to transform the HSHAZ area in Lincoln following on from earlier heritage led-led regeneration by Lincolnshire Co-op in the Cornhill Quarter.
"The Cornhill Quarter is becoming a key destination in the city and when the Central Market, Barbican and St Mary le Wigford works are complete Lincoln will have a wonderful 'gateway' to the city."