Lincoln Climate Commission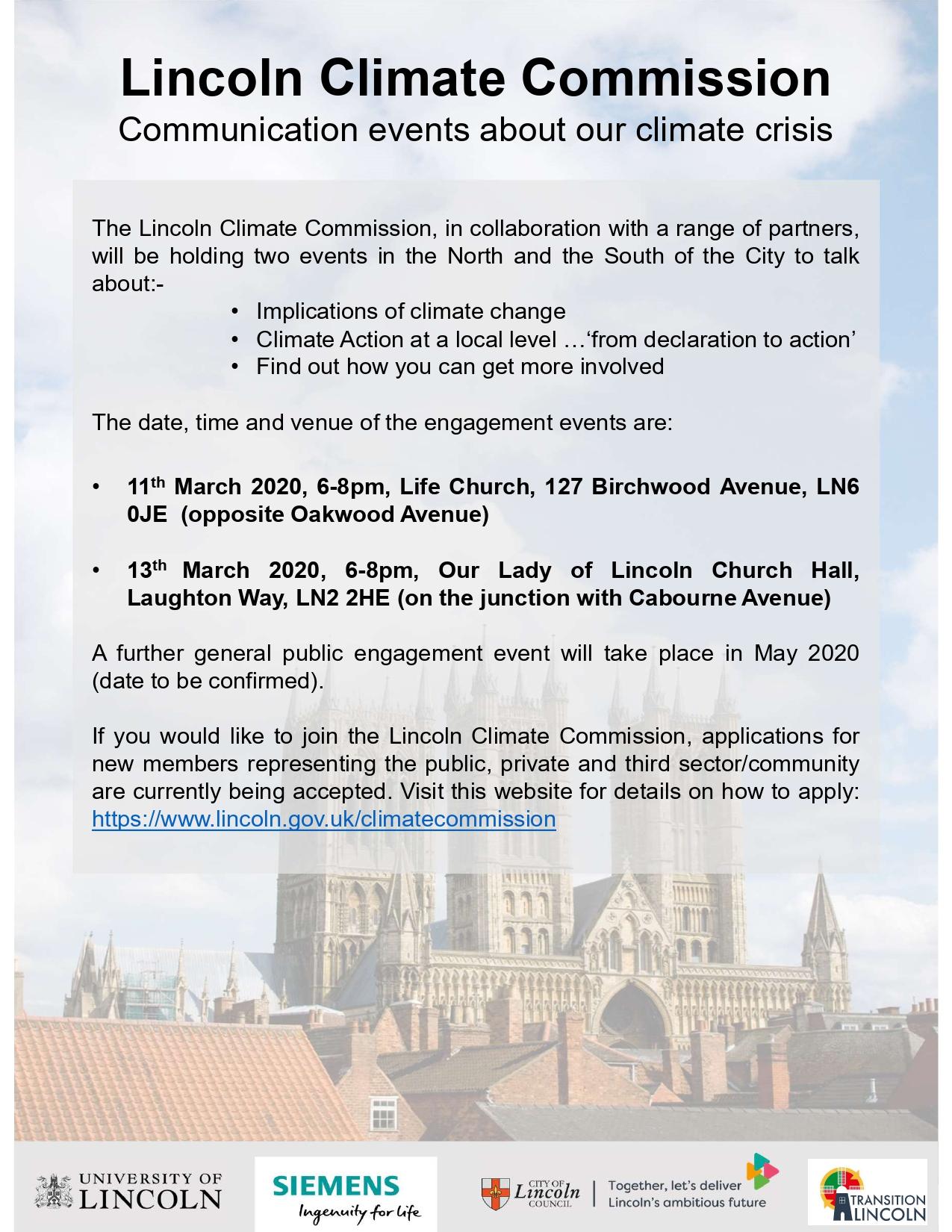 The Lincoln Climate Commission emerged from a collaboration with the City of Lincoln Council, Siemens, Transition Lincoln and the University of Lincoln. Since then the group has expanded to include the valuable input from a range of businesses and organisations who wish to work together to make a positive choice on issues relating to energy, carbon, weather and climate. The value of the Climate Commission is its ability to harness the collective energy, vision and ambition of key stakeholders across Lincoln and Lincolnshire to deliver a step-change in its response to the climate emergency.
In 2019, the commission had been working on a draft Lincoln Roadmap to achieve Zero carbon by 2030. During the spring of 2020, the commission is planning a range of community consultation events to review the evidence outlined in the Zero Carbon Roadmap and to consider a range of actions we will need to deliver to achieve the zero carbon target.
Communication Engagement Events on 11 and 13 March 2020 postponed
In light of the national Coronavirus (COVID-19) outbreak, we have taken the decision to postpone the Lincoln Climate Commission Engagement Events.
These were due to take place on Wednesday 11 March at Life Church, Birchwood Avenue, Lincoln and on Friday 13 March at our Lady of Lincoln Church, Laughton Way, Lincoln
The Lincoln Climate Commission remains interested in receiving your views and comments. If you would like to be involved with the work of the Commission please contact: kate.bell@lincoln.gov.uk or tweet @ClimateLincoln
We apologise for any inconvienience caused and will be in contact soon with new dates for the events.
The Lincoln Climate Commission comprises of:
A Strategy Group including a Chair, Vice-Chair and at least one person from each working group. The strategy group meets quarterly and:
oversees the programme of deliverables
takes an overview of initiatives, projects and activities to ensure co-ordination, reduce duplication and foster synergy between projects
acts as a problem-solving forum
agrees, communicates and publishes advice on meeting carbon reduction targets
agrees, communicates and publishes advice on risk / opportunity assessment of climate change
Working Groups which meet at least quarterly and report to the Strategy Group. They are:
We are looking to extend the working groups and at present these are proposed to be made up of the following:-
Communications Group
Consultation Group
Research Group
Visit the download section for more information about the role of the commission, the latest terms of reference and the governance structure.