Fairtrade in Lincoln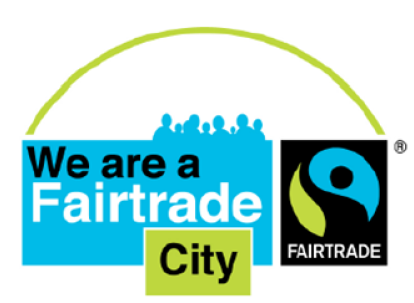 The city was initially granted Fairtrade City status in August 2013 after proving it was equipped to meet five goals, including encouraging shops and cafes to sell and use Fairtrade products and promoting the ethically sourced products within other businesses.
What is Fairtrade?
Goods that are considered "Fairtrade" are licensed and registered with the Fairtrade mark by the Fairtrade Foundation when they meet a set of criteria based on sustainability, democracy for farmers and acceptable working conditions. This mark is independently checked to ensure set standards have been met by the farmers, workers and companies that are part of the products' supply chains. Where all ingredients that can be Fairtrade within a product are, the product will carry the Fairtrade mark.
The Fairtrade mark is the only independent guarantee that producers in the developing world have received a premium on the market price.
What does being a Fairtrade City mean?
To be a Fairtrade City five goals need to be achieved:
The local council passes a resolution supporting and promoting Fairtrade
A range of Fairtrade products are readily available in the area's shops and served in local cafes/catering establishments
Fairtrade products are used by a number of local workplaces and community groups
Media coverage and popular support is attracted for the campaign
A local Fairtrade steering group is set up to ensure continued commitment to its Fairtrade City status
Once these five goals have been met, the people of the city are considered to be working towards helping farmers in the third world to be paid a decent wage and provide opportunities for their local communities to be sustainable. However, being a Fairtrade City is a continuing process of promoting and supporting the Fairtrade initiative.
To find out more about the work of the Fairtrade Foundation, together with how your community, town, city, faith group, school or workplace can apply for Fairtrade Friendly Accreditation, visit www.fairtrade.org.uk.
If you would like further information on Fairtrade in Lincoln or if you would like to register your business, workplace, faith group or school as supporting Fairtrade in the city, please contact the Lincoln Fairtrade City Steering Group on policy@lincoln.gov.uk.
Further information on the work of the group can be found at: